2 Seater Lyrics In Hindi - Trending | Mika Singh Ft Pallavi Sood | New Punjabi Songs 2021 | Latest Punjabi Songs 2021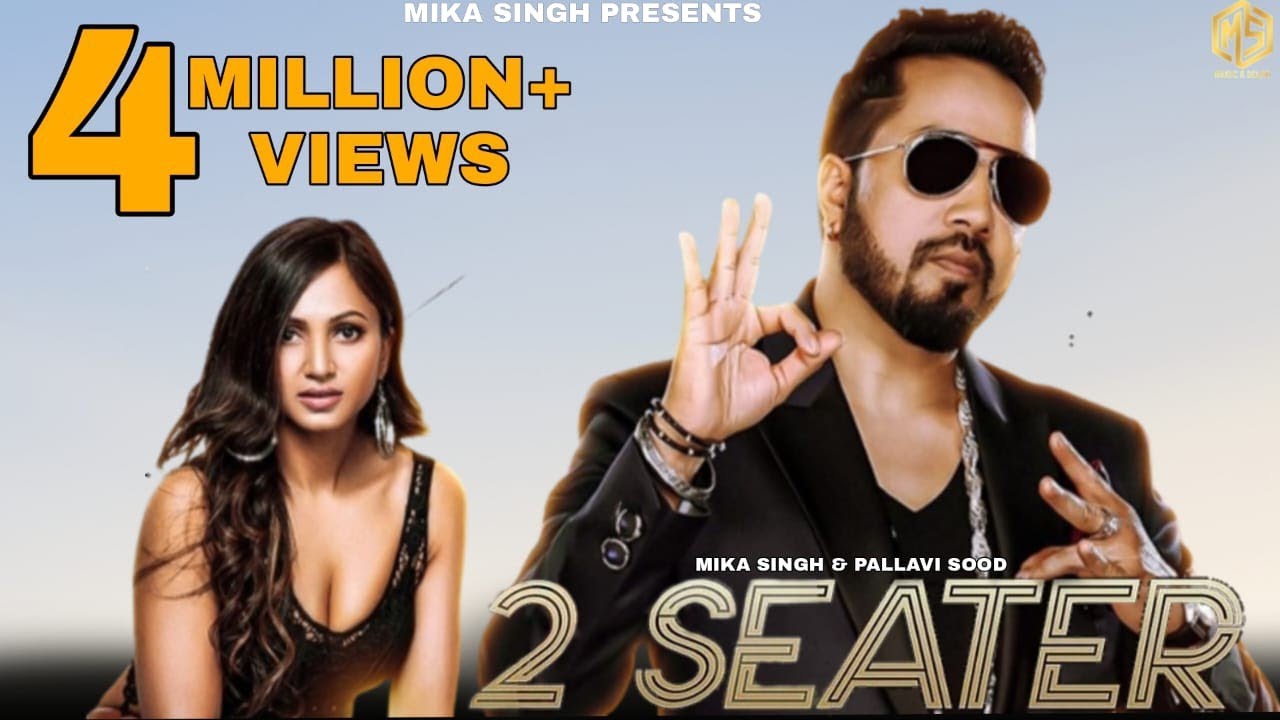 | | |
| --- | --- |
| Singer | Mika Singh & Pallavi Sood |
| Singer | Mika Singh & Pallavi Sood |
| Music | 2 Seater Lyrics Mika Singh |
| Song Writer | Praabh Neear / Kabeer Kang |
2 Seater Lyrics In Hindi - Trending | Mika Singh Ft Pallavi Sood
2 Seater Lyrics In Hindi
2 सीटर गद्दी मेरी

बेठी विच नड्डी तेरी

2 सीटर गद्दी मेरी

बेठी विच नड्डी तेरी

मुंडेयन दा पिचे मेला

सुन ने नु हां इक्क मेरी

करदे ने पूरी कोशिश

हाथ न किस आने आ:

ताइओ मैनु कहे सारे

एह तितली आ

ताइओ मैनु कहे सारे

एह तितली आ

ताइओ मैनु कहे सारे



हाय डेंजर पटियाला सूट आ

मुंडेयं नु करदा शूट आ

खतरा पटियाला सूट आ

मुंडेयं नु करदा शूट आ

पुचड़े ने किदार चले

दास दो आज कहड़ा रूट आ

पुचड़े ने किदार चले

दास दो आज कहड़ा रूट आ

लगदे आ तद्दो किन

साह वि अग लायी आ

ताओ तन ताओन तन

ताइओ तन कहे तैनु

एह तितली आ

ताइओ तन कहने सारे

एह तितली आ

ताइओ तन कहे तैनु
Also Read - 2 Seater Lyrics In English
Also Read - Bandook Lyrics In Hindi
Also Read - Dil Todne Se Pehle Lyrics In Hindi
Also Read- Vighnaharta Lyrics In Hindi
Also Read- Dil Kisi Se Lyrics In Hindi
2 Seater | Mika Singh Ft Pallavi Sood | New Punjabi Songs 2021 | Latest Punjabi Songs 2021 - Mika Singh & Pallavi Sood Lyrics
Music & Sound Presents New Punjabi songs "2 Seater" by Mika Singh and Pallavi Sood while music of latest song is given by Praabh Neear. The Lyrics is penned by Praabh Neear and Kabeer .
#MikaSingh
#PallaviSood
______________________________________________________________________________________________ Subscribe to Music & Sound :-
https://www.youtube.com/channel/UCsG7...
► Listen to Full Song Available On : Gaana :
https://gaana.com/song/2-seater-21
JioSaavn :
https://www.jiosaavn.com/song/2-seate...
Wynk :
https://wynk.in/u/Pwc0OTI2m
iTunes :
https://itunes.apple.com/album/id/158...
Apple Music :
https://music.apple.com/album/id/1584...
Amazon Music :
https://music.amazon.in/albums/B09FHL...
Spotfiy :
https://open.spotify.com/album/7nuJNL...
Resso :
https://m.resso.app/ZSJwFAUCK/
Singer - Mika Singh & Pallavi Sood Produced by-Mika Singh,Dr.Tarang Krishna, Manish Sood Lyrics - Praabh Neear / Kabeer Kang Music Director - Praabh Neear Rapper - Wolfy Video Director - Harry Jordan Music Designed -Param Raj Mix and master-MS Studio Car guy- Pradeep Singh Music produced by - Apeiruss (Shafi & Saami) Choreographer-Ilena Kaur Makeup-Harleen Kaur Special Thanks:- Manish Sood, Sahil Sanon, Rinku, Param Singh,Taranpreet Singh, Rammi Singh, Nikki Singh, Jimmy Nagi ,Pradeep Singh. ► Like us on Facebook:
http://bit.ly/2xU9HpF
► Follow us on Twitter:
http://bit.ly/2yqJC5C
► Follow us on Instagram:
http://bit.ly/2zfPIoA
► Subscribe to Music & Sound:
http://bit.ly/2lLdtzW
For Bookings and Queries Call: +91-9619669609 or Email: musicsound190@gmail.com Digitally Powered By: Big Bash
https://www.instagram.com/bigbashoffi...