Sun Le Zara Lyrics In Hindi | Sonal Pradhan & Saaj Bhatt

- Gautam Rode & Pankhuri Rode | Zee Music Originals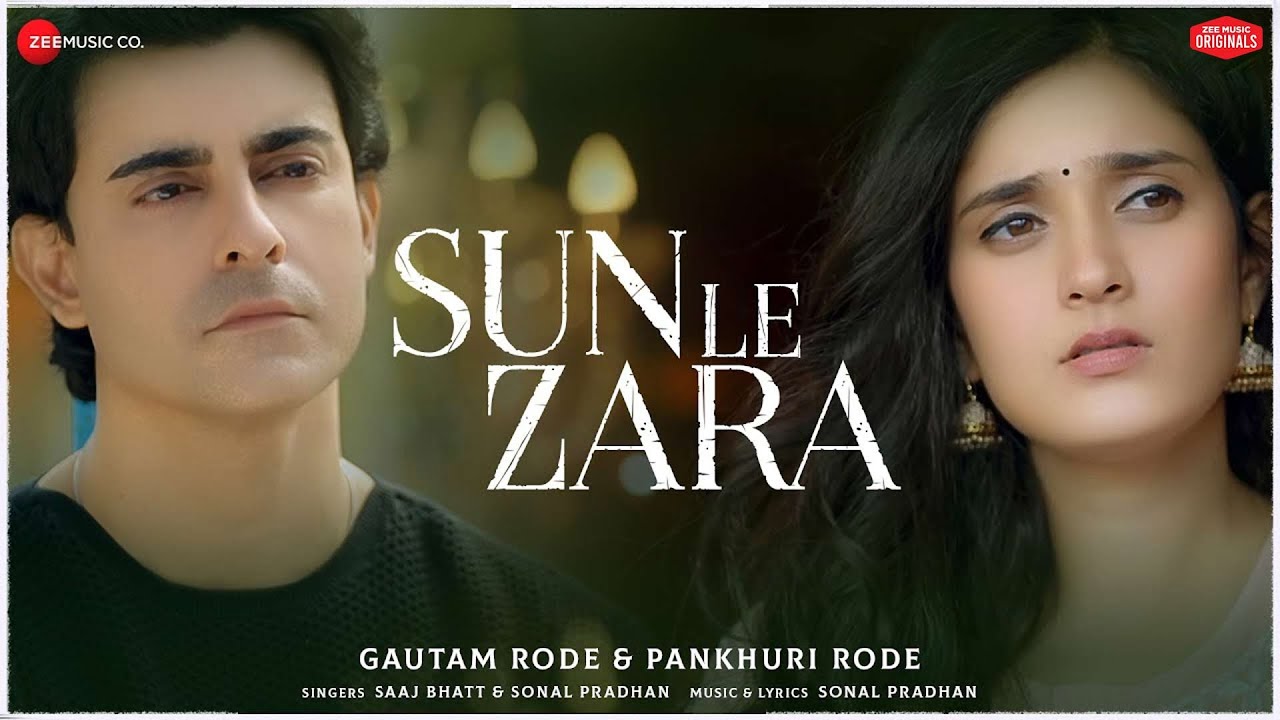 | | |
| --- | --- |
| Singer | Saaj Bhatt & Sonal Pradhan |
| Singer | Saaj Bhatt & Sonal Pradhan |
| Music | Sun Le Zara Lyrics |
| Song Writer | Sonal Pradhan |
Sun Le Zara Lyrics In Hindi | Sonal Pradhan & Saaj Bhatt
Sun Le Zara Lyrics In Hindi
मुझे पता है क्या दिल में तेरे
जाने तू भी क्या दिल में मेरे
मुझे पता सीन क्या दिल में तेरे
जाने तू भी क्या दिल में मेरे

फिर भी जो बातें तुमसे कहती हैं
सामने केह ना पाया तेरे

सुन ले जरा
दिल की कभी सुन जरा
सुन ले जरा
दिल की कभी सुन जरा

सुन ले जरा
दिल की कभी सुन जरा
सुन ले जरा
दिल की कभी सुन जरा

मैं हूं तेरा पागल दीवाना
तू है तो में हूं पिया
याद तू ही तू मेने मन:
कुछ न तेरे शिव

बादल दीवाना हूं
तेरा दीवाना हूं
तू है तो में हूं पिया

सुन ले जरा
दिल की कभी सुन जरा
सुन ले जरा
दिल की कभी सुन जरा

सुन ले जरा
दिल की कभी सुन जरा
सुन ले जरा
दिल की कभी सुन जरा

टूटा है दिल मेरा
एक दाफा पहले भी
जी न ले भी मेरे
ज़खम है ऐसे भी

मेरी रागो में बस
तू ही बह रहा
तकलीफ तेरी दर्द मेरा

रोटा है दिल मेरा
आंखें मेरी भी नंबर है
चाहु लगाना तुझे
देखे से तुझे

सुन ले जरा
दिल की कभी सुन जरा
सुन ले जरा
दिल की कभी सुन जरा

सुन ले जरा
दिल की कभी सुन जरा
सुन ले जरा
दिल की कभी सुन जरा
Also Read- Sun Le Zara Lyrics In English
Also Read- Kale Je Libaas Di Lyrics In English
Also Read- Suitan Da Swag Lyrics In Hindi
Also Read - Nain Bandhe Naino se Lyrics In Hindi
Sun Le Zara - Gautam Rode & Pankhuri Rode | Sonal Pradhan & Saaj Bhatt | Zee Music Originals - Saaj Bhatt & Sonal Pradhan Lyrics
👉🏻 SUBSCRIBE to Zee Music Company -
https://bit.ly/2yPcBkS
Producer: Anurag Bedi - Chief Business Officer, Zee Music Company Singers: Saaj Bhatt & Sonal Pradhan Composer: Sonal Pradhan Lyrics: Sonal Pradhan Marketing & Promotions: Kirthi Shridhar Rai - Marketing Head, Zee Music Company Music Production, Mix and Master: Riddhiman Chatterjee Recorded @ Studio5o4 By Samir Dharap Director: Aslam Khan DOP: Pankaj Kachhawa Editor: Zedrin Phukan Cast: Gautam Rode & Pankhuri Rode Supporting cast: Puja Verma & RJ Umar Nisar Production House: See Saw Entertaintment Executive Producer: Danish Kak (DK Films and Entertainment) Make up & Hair: Ali (for Gautam Rode and Pankhuri Rode) Stylist: Afshan Khan Poster: Blosterflip Media Production team: 1. Moosa Manzoor Elia 2. Shahid Baqal 3. Jamsheed Kak 4. Hashmat Ali Kand Runner 1. Maqsood Khar 2. Waseem Khar Drone: Tayeeb Yaseen Makeup: Sabia Zohaib Hairstylist:- Ainah Basharat 2ND DOP UNIT Irfan Haider Joo (kashmir filmakers) Camera assistant 1. Nayeem Abbas 2. Umer Nazir DI Afterplay Studios LLP (Maddy) DI Colourist - Pranab Manna DI line producer - Prakash Perumal D.I. confirmist - Sanket Sawant DCP mastering - Hemant Parab Vi Customers Set this song as Callertune by clicking on below link:
https://vicallertunes.in/home
Music on Zee Music Company Connect with us on : Twitter -
https://www.twitter.com/ZeeMusicCompany
Facebook -
https://www.facebook.com/zeemusiccompany
Instagram -
https://www.instagram.com/zeemusiccom...
YouTube -
http://bit.ly/TYZMC