Vighnaharta Lyrics In Hindi | Trending | Salman Khan - ANTIM :

The Final Truth | Salman Khan, Aayush S, Varun Dhawan | Ajay G, Hitesh,Vaibhav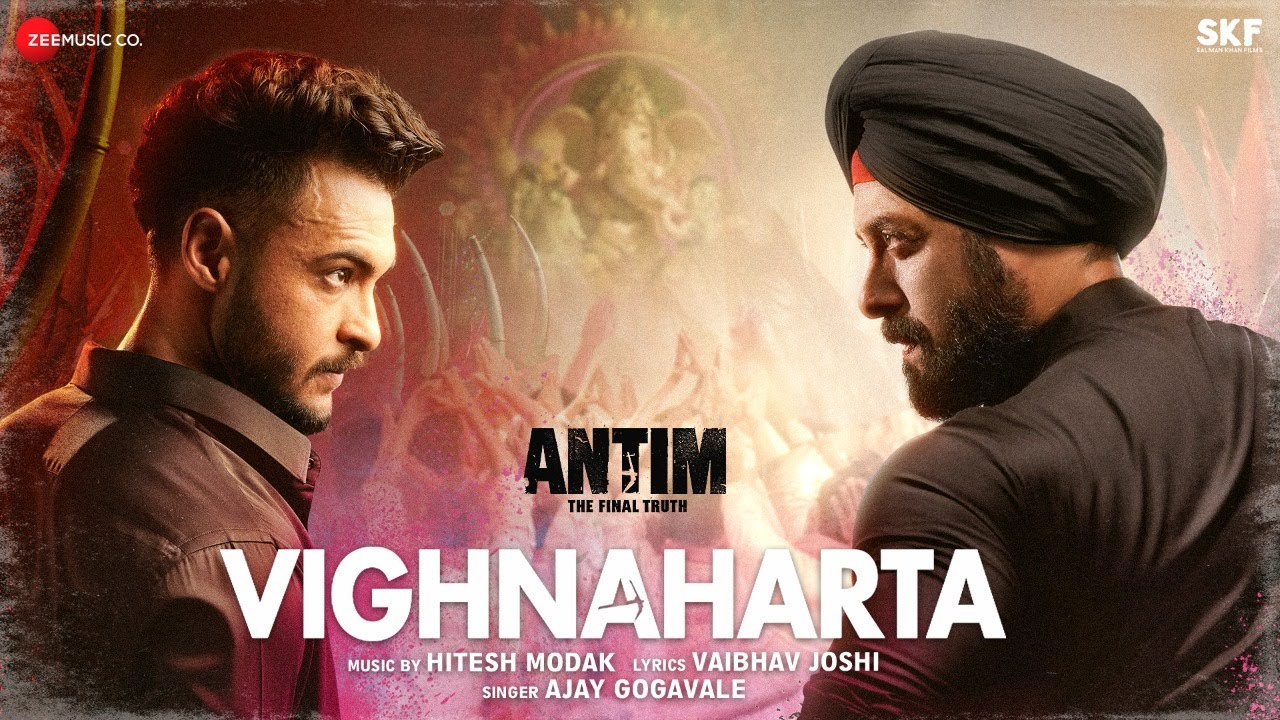 | | |
| --- | --- |
| Singer | Ajay Gogavale |
| Singer | Ajay Gogavale |
| Music | Vighnaharta Lyrics |
| Song Writer | Vaibhav Joshi |
Vighnaharta Lyrics In Hindi | Trending | Salman Khan - ANTIM
Vighnaharta Lyrics In Hindi
वक्रतुंडा महाकाया
सूर्यकोटि सम्प्रभा
निर्विघ्नम कुरुमे देव
सर्व कार्येशु सर्वदा

गणपति बप्पा मोरया!

तेरा करम मेरा भरम
मेरा धर्म तू ही तू
जनम वनम कुछ भी नहीं
परम तू ही तू

सीताम वितम दया क्षमा
अजब तेरी अदा है
जगत तू ही भगत तू ही
देव तू ही तू

हो तू ही दाता तू ही विधाता
तेरा ये जग तू जग सार
तू ही आँधी तू ही तूफ़ान
तू ही मांझी तू ही किनारा

तू सुख कर्ता तू ही दुख हरता
तू ना होता मैं जाने क्या करता

विघ्नहर्ता तू मेरा विघ्नहर्ता रे
विघ्नहर्ता तू मेरा विघ्नहर्ता रे
विघ्नहर्ता तू मेरा विघ्नहर्ता रे
विघ्नहर्ता तू मेरा विघ्नहर्ता रे

जब जब दुनिया ने हाथ नहीं थाम
मेरा सफर देवा तेरे द्वार आया
धूप नहीं है मेरी चाह नहीं मेरी
सब कुछ है तेरा बप्पा मोरया

रही भी तेरी पानाहीं भी तेरी
आहों को मेरी बस तेरा सहारा में
है सुख कर्ता तू ही दुख हरता
तू ना होता मैं जाने क्या करता

विघ्नहर्ता तू मेरा विघ्नहर्ता रे
विघ्नहर्ता तू मेरा विघ्नहर्ता रे
विघ्नहर्ता तू मेरा विघ्नहर्ता रे
विघ्नहर्ता तू मेरा विघ्नहर्ता रे

गणपति गणपति
गणपति बप्पा मोरया

गणपति बप्पा मोरया!
Also Read- Vighnaharta Lyrics In English
Also Read- Dil Kisi Se Lyrics In Hindi
Also Read- Click That B Kickin It Lyrics In English
Also Read - Horr Das Lyrics In Hindi
Vighnaharta | ANTIM: The Final Truth | Salman Khan, Aayush S, Varun Dhawan | Ajay G, Hitesh,Vaibhav - Ajay Gogavale Lyrics
👉🏻 SUBSCRIBE to Zee Music Company -
https://bit.ly/2yPcBkS
Celebrate this Ganesh Utsav with Salman Khan, Aayush Sharma and Varun Dhawan as they seek blessings in the first song from Antim, 'Vighnahartha!'
#SalmanKhan
#AayushSharma
#VarunDhawan
#ANTIM
#Vighnahartha
Directed by Mahesh V Manjrekar Produced by Salma Khan Song: Vighnaharta Singer: Ajay Gogavale Music: Hitesh Modak Lyrics: Vaibhav Joshi Song arranged, composed and produced by: Hitesh Modak Guitars and strokes by: Esani Dey Bass guitar by: Sujay Dey Tuti section by: Kiran Vinkar, Omkar Dhumal and ID Rao Banjo by: Phoolchand Kokate Shehnai by: Omkar Dhumal Percussions: Pratap Rath, Raju Kulkarni, Bhimrao Mohite, Varad Kulkarni, Prabhakar Mosamkar, Adarsh More, Ratnadeep Jamsandekar Chorus: Female Vocals: Shamika Bhide, Roshni Saha, Riya Bhattacharya, Maanuni Desai, Pallavi Rasika Joshi, Amita Ghugari, Susmirata Davalkar Male Vocals: Padmanabh Gaikwad, Shatadru Kabir, Abhik Ghosh, Krunal Thakur, Varad Siddhesh, Patil Shahzad, Ali Sultan Ali, Chetan Ferar, Sanjay Pancholi, Jaydeep Bagwadkar, Jitendra Tupe, Janardan Dhatrak, Nachiket Desai, Shriranga Bhave Song recorded by: Vijay Dayal, Chinmay Mestry, Abhishek Khandelwal at Yashraj Studios Mixed and mastered by: Eric Pillai Asst Mix Engineer: Michael Edwin Pillai Vi Customers Set this song as Callertune by clicking on below link:
https://vicallertunes.in/home
Music on Zee Music Company Connect with us on : Twitter -
https://www.twitter.com/ZeeMusicCompany
Facebook -
https://www.facebook.com/zeemusiccompany
Instagram -
https://www.instagram.com/zeemusiccom...
YouTube -
http://bit.ly/TYZMC